The Weekender: The Murray, NSW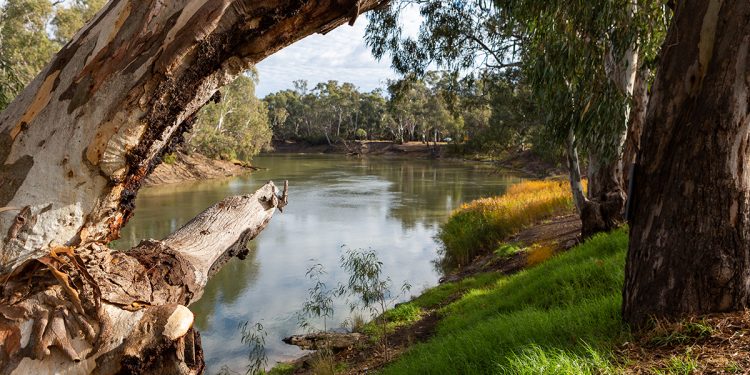 Albury | Corowa | Yarrawonga | Cobram | Moama | Echuca
We'd like to properly introduce you to Australia's favourite Murray – and no, we're not talking about the original red Wiggle. 
We're talking about The Murray River, Australia's longest river spanning 2,508 kilometres across New South Wales, Victoria and South Australia – and boy is she a beauty.
A true nature-loving-foodie who enjoys a spot of first-class golf and splash of wine could spend weeks on end exploring this stunning region. From the fine food in Albury and the whisky masters in Corowa, to the fresh produce of Cobram, the sprawling golf courses of Yarrawonga and luxurious glamping of Moama; you'll find endless reasons to visit The Murray.
WHERE TO EAT IN THE MURRAY
---
River Deck Cafe
When you mention The Murray or specifically Albury you'll be asked: "did you eat at River Deck Cafe?" And there's a reason for that – it serves delicious and fresh dishes, provides wonderful service, and it is smack-bang on the river, what more could you want? Open seven days a week, the River Deck Cafe is ready to fill your breakfast and lunch desires; from their healthy organic chia bowl and avocado beetroot toast, to their baked pancakes, ricotta gnocchi and Milawa Duck leg. They execute each dish with precision and passion, which translates from the kitchen to the plate. But, the absolute must-have, especially for our vegan or dairy-free/gluten-free friends are the Corn & Vegetable Fritters ($16.5) with a cashew nut dressing, cucumber, herbs, pepitas, fennel & watermelon salad. Crispy little morsels, with a creamy centre and jam-packed with flavour, pairing beautifully with the fresh-burst of summer salad – they are simply unreal. Featuring a Hamptons-style timber ceiling, glass walls and modern fresh decor all set the perfect frame to take in the vibrant views of leafy green trees along The Murray River.
---
The River Deck Cafe | 48 Noreuil Pde, Albury, NSW 2640 | (02) 6023 5980
---
Selle Bistro
This hidden foodie haven is almost invisible from street view, wrapped in sheer floor-length grey curtains, masking the dimly light masterpiece that is Selle Bistro. When you think of Albury, you don't necessarily expect fine dining like this, but it's the perfect balance of city meets country, without the pretentious white cloths and intimidating service of fine dining venues. Instead, when you walk into the small European style bistro, you'll find locals and visitors alike enjoying new creative dining concoctions, the freshest of produce and a team of sensational staff who make you feel right at home.
The menu, too, is unexpected, and a very welcome surprise. After meeting with owner and operator, Matthew Fuller, we were more intrigued to try some of the unusual delicacies on offer. One of which was the crispy tripe, curry and boudin noir ($18). Forget everything you know or think about tripe (including your grandma's sneaky attempts to hide it). This dish was an absolute highlight turning tripe into a must-have dish. The mains too were unforgettable, safer than a 'tripe choice', but all the more executed perfectly. The Chicken, sweetcorn, chorizo and sage ($36) and Lamb shoulder, pea, malt and mint ($36) were both melt-in-your-mouth good. Fresh, flavourful and generous in serve, you won't go home disappointed or hungry. Side note, be sure to eat the house-bread. We love bread, but never have we had a bread-mattress as good as this before. Enjoy!
---
Selle Bistro | 1/467 Olive St, Albury, NSW 2640 |(02) 6047 0519
---
Pacdon Park
For the lover of pork pies, this is the perfect place to pop in for a piping hot pie or two. The delicious project was conceived by owners Jim Arrowsmith and Pete Tonge from Lancashire whilst backpacking around Australia in 2006. They disappointingly discovered that they couldn't get find a decent pork pie anywhere. So, they set up shop, farm and factory and have given Aussies Pacdon Park. Now located on a stunning vineyard on the banks of the Murray River, close to Echuca (VIC) and Moama (NSW), the team ensure they use the whole free-range pig, sourced from local farms, along with other local ingredients to produce a range of English-inspired treats, which are all sold from the Pork Pie & Produce Store in Echuca. Pop by between 9am – 4pm, Monday to Friday and pick up a sensational variety of artisan British small goods, perfect for your next BBQ, campsite meal or to take back home with you.
---
Pacdon Park | 464 Perricoota Rd, Moama NSW 2731 | (03) 5480 9645
---
WHAT TO DO IN THE MURRAY
---
Treat yourself at Corowa Whisky & Chocolate
From the outside, you'll think you've walked onto the set of a classic western, albeit, with an Aussie-farm feel. But beyond the metal door, wagon wheels and rusted corrugated iron-clad walls of the 1920's old flour mill, you'll discover an adults wonderland, split into a modern and moody whisky bar, a cafe and chocolate factory, all sitting underneath the whisky distillery itself. Alongside the breathtaking event space – fit for weddings and lavish affairs – Corowa Whisky & Chocolate is filled with timber beams, endless barrels, chesterfield lounges and hanging sheer curtains. But the whisky is what it's really all about, so make the small investment ($10 for three splashes or $15 for five) to see if you can taste the smokey and sticky notes. And for the sweet-tooths out there, ensure you opt for the chocolate pairing! Tours of the beautiful distillery run daily at 11:00 am and 2:30 pm, so you can learn, taste and admire all at once! To read more about Corowa Whisky & Chocolate check out our profile in our Whisky Diaries series.
---
Corowa Whisky & Chocolate | 20-24 Steel St, Corowa, NSW, 2646 | (02) 6033 1311
---
---
Explore Mungo National Park
Heading a little further away, if you're after a breathtakingly unusual landscape made up of dried-up lake beds, sand dunes and archaeological wonders that are reminiscent of a faraway planet, then Mungo National Park is an absolute must to explore. This natural wonder is where scientists discovered artefacts of ancient Aboriginal culture dating back 400,000 years, making it one of the oldest places outside of Africa to have been occupied by modern humans since ancient times. In fact, it is where the remains of Mungo Lady and Mungo Man were discovered. It's a sensational landscape to marvel at, especially by four-wheel drive. Witness the Walls of China (a 33km chain of white dunes) and partake in a guided tour to discover ancient campfires and burial sites. If you'd prefer to walk the stunning surrounds, embark on the Foreshore Walk or Grassland Walk, and be sure to have your camera ready.
---
Mungo Visitor Centre | Mungo Foreshore Walk, Mungo NSW 2715 | (03) 5021 8900
---
WHERE TO PLAY ON THE MURRAY
---
With over 15 golf courses sprawling over and around The Murray region, you'll be spoilt for choice! We've done the hard work for you and chosen our top three courses to test your golfing skills.
Cobram Barooga Golf Resort
Cobram Barooga Golf Resort is the perfect location for those looking to stay, play and eat. With 36 Championship standard holes to play across the Old Course and the newer West Course, there'll be a new challenge no matter your golfing capabilities. The beautifully manicured grounds not only house the expansive golf courses,  but also an enormous pro shop with knowledgeable staff, fully serviced golf clubhouse, cart hire, a sensational new bar and courtyard (Bridges) which is open for breakfast, lunch and dinner, plus 18 modern and luxurious villas. And if you're not a complete golf fan (which you will be after your visit) there are also lawn bowls for you to take a crack at. Located on the beautiful Murray River, the courses are spotted with grey wallabies, tree-lined borders and native flora.  If you're looking to make your escape to The Murray a momentous occasion, be sure to explore the wonderful function packages and facilities on site. From large scale dining to weddings and other celebrations, Cobram Barooga Golf Resort is the perfect place to showcase your event, especially with breathtaking views of the green surrounds.
---
Cobram Barooga Golf Resort | Golf Course Rd, Barooga NSW 3644 | (03) 5873 4523
---
River Rich Golf Club
Another stunning golf course near the banks of the scenic Murray River is the River Rich Golf Club which offers guests premium golfing, dining and accommodation, plus an array of other activities to keep you entertained when your golfing arm needs a rest. River Rich hosts two distinct championship golf courses, open year-round; The West Course and East Course. The West Course spans across 6243 metres playing to a par of 72, whilst the East Course measures 5897 metres off the black trees and plays to a par 71. The course weaves between beautiful trees, over mini mounds and bunkers, keeping each shot interesting and that bit more challenging! If you're not up for a full 9 or 18 holes then be sure to take a swing on the 17 bay driving range. For those of us keen to perfect our golfing craft, private and group coaching is also available, or, for those already at the top of their game, tournaments are held throughout January – March, May and July.
River Rich also offers other sporting opportunities including bowls, croquet, mini-golf and tennis all made available by their three bowling greens, four croquet courts and nine tennis courts. After all that sporting activity you'll be keen for a feed, and, of course, you can get it at River Rich Golf Club! The newly renovated clubhouse showcases the Bistro, Cafe Lounge & Kids Room and snack menu from the Sports Lounge and TAB. If you're feeling tired after all that golf, tennis, bowls and dining, then why not stay at River Golf Club too? There are 63 rooms surrounding the lush gardens, adjacent to the clubhouse. Each complete with access to two outdoor pools, spa and BBQ areas, you'll have the chance to select from a standard suite, deluxe suite, executive suite or apartment.
---
River Rich Golf Club | Twenty Four Lne, Moama, NSW 2731 | (03) 5481 3333
---
Yarrawonga Mulwala Golf Club Resort
All we need to  recommend is that you play the fifth hole. You won't be disappointed. Even if you're terrible at golf.
The Yarrawonga Mulwala Golf Club Resort is one of the most beautiful we've ever seen, especially as it's located right on the banks of the mighty Murray River. It's also Australia's largest public access golf resort and boasts 45 holes. This sensational golfing paradise is home to three, yes three courses, plus a driving range: The Murray Course, The Lake Course and the Executive Course. Our pick of the lot, The Murray Course, is a stunning natural display that weaves between gigantic river red gum trees and is filled with creative and well thought out 'enhancements' such as mini bridges, stunning water hazards and challenging bunkers.  And when you reach hole number five, The Murray, you'll be taken away by the sheer beauty of the waterway. Grey wallaby families hop and dodge in-between trees and scatter across the grounds, taking your golfing experience to the next level.
The Murray Course is one of the more challenging courses, with the Lake Course similar to a resort course and the Executive perfect for a beginner. The Golf Club is also home to one of the most impressive pro golf shops we've encountered, led by the lovable head golf professional, Evan Droop.  But Yarrawonga Mulwala Golf Club doesn't just stop at golf. With a beautiful clubhouse, TAB, family fun zone, bistro, 'sand wedge bar', movie lounge, mini cinema, lawn bowls, croquet, well-being – fitness and massage centre, plus nine styles of accommodation on offer from villas to suites, you'll never have to leave the resort.
---
Yarrawonga Golf Club Resort | Yarrawonga Mulwala Golf Club Resort Mulwala, NSW 2647 | (03) 5744 1911
---
WHERE TO STAY ON THE MURRAY
---
Talo Retreat
If you're after a romantic stay, set within the beautiful natural bushland, with a lot more luxury and privacy than camping – then look no further, because Talo Retreat is the perfect stay to tick all your boxes. Here 11 luxury 'yurts' scatter the native bushland on the expansive Moama on the Murray resort, all hidden in this adults-only escape. The timber floored, high ceiling glampers come complete with private boardwalk entrance, hammock, BBQ, outdoor lounges, comfy king-sized bed, electricity, lights, fan, mini-fridge, microwave, sink, armchairs, skylight and bathrobes! Plus, a private ensuite is facilitated within a water tank equipped with toilet, shower and sink.
But, the ultimate feature, the selling point that screams luxury and romance is the private outdoor jacuzzi – perfect for outdoor relaxation at its finest amongst the natural landscape. See grey wallabies scurry by and birds chirping as the sun goes down – all from the hot bubbling tub. Thanks to Talo Retreat the peaceful luxury tent is the perfect location to unwind and switch off. If you're after a little more hustle and bustle, all Moama on the Murray Resort amenities are free to access including swimming pools, tennis courts, as well as complimentary use of canoes and bikes for Talo Retreat guests. At only eight-minutes from Echuca town, you'll be pleasantly surprised by this little slice of quiet heaven.
---
Talo Retreat | Moama on Murray, 69A Dungula Way, Moama, NSW 2731|  (03) 5480 3031
---
Atura Albury
If you're after a traditional stay, with a modern flare, great location and wonderful service, then Atura Albury is the stay for you. The Atura is the new, improved and fresh take on the former Rydges Hotel, and offers guests comfortable, clean and relaxing stays. Pick from deluxe king and twin rooms to two-bedroom apartments as best suit your needs. At the in-house bar and restaurant, Roadhouse Bar & Grill, you'll be spoilt for choice with mouth-watering steaks, moreish burgers, healthy salads and $10 teapot cocktails like the passionfruit caipiroska and strawberry mojito! For the warmer months, be sure to take a dip in the pool and then relax in your room, air-con on and order in. Better yet, who doesn't love a buffet breakfast? Something Atura does sensationally well. Explore the never-ending pastry and toast bar, pop by the fruit-wonderland with yoghurt and granola toppings, and then finish with everyone's favourite – the hot station. Eggs are made to order whilst you fill up on crispy bacon, roasted tomatoes and crunchy hash browns.
---
Atura Albury | 648 Dean St, Albury NSW 2640 | (02) 6021 5366
---
Editor's note: Hunter and Bligh were invited as guests of Destination NSW to attend a press trip to discover the delights of The Murray Region. All reviews and choices are authentic and are in no way influenced by our partnership.