Ultimate Travel Guide: Ningaloo Reef, Western Australia
Described as a rugged and beautiful wilderness, Ningaloo Reef in Western Australia has everything you need for a once-in-a-lifetime travel experience in Australia.
Ningaloo Reef is a beautifully unique World Heritage listed site on the West Australian coastline. It's the world's largest fringing reef spreading 260 kilometres, and frequently inhabited by some of the most majestic sea creatures in the world. And, after visiting, you will struggle to find anything else quite like it.
A not-so-short 12 hour drive north from Perth (or two hour flight) will land you in Exmouth, the most popular town of the Ningaloo Reef region and one of the 10 must-visit Australian towns of 2021. Once in Exmouth you'll find yourself immersed in all things nature and 'eco-adventure'. Locals and travellers are spoilt for choice by the National Parks, Marine Park and renowned reef and, of course, the glorious blue waters and the abundance of Australian wildlife.
So, before you pack your bags, read on through our Ultimate Travel Guide for visiting Ningaloo Reef in Western Australia. Packed with all the best things to do, this guide to Ningaloo Reef goes beyond snorkelling tours and activities.
What is the best time to visit Ningaloo Reef, Western Australia:

Pending on your reason to visit, the best time to visit Ningaloo Reef each year are the months from March to October. If you're looking to swim with whale sharks, visit Ningaloo Reef from mid-March to late July.
---
The Best Places to Eat in Ningaloo Reef, Western Australia:
Whalers Restaurant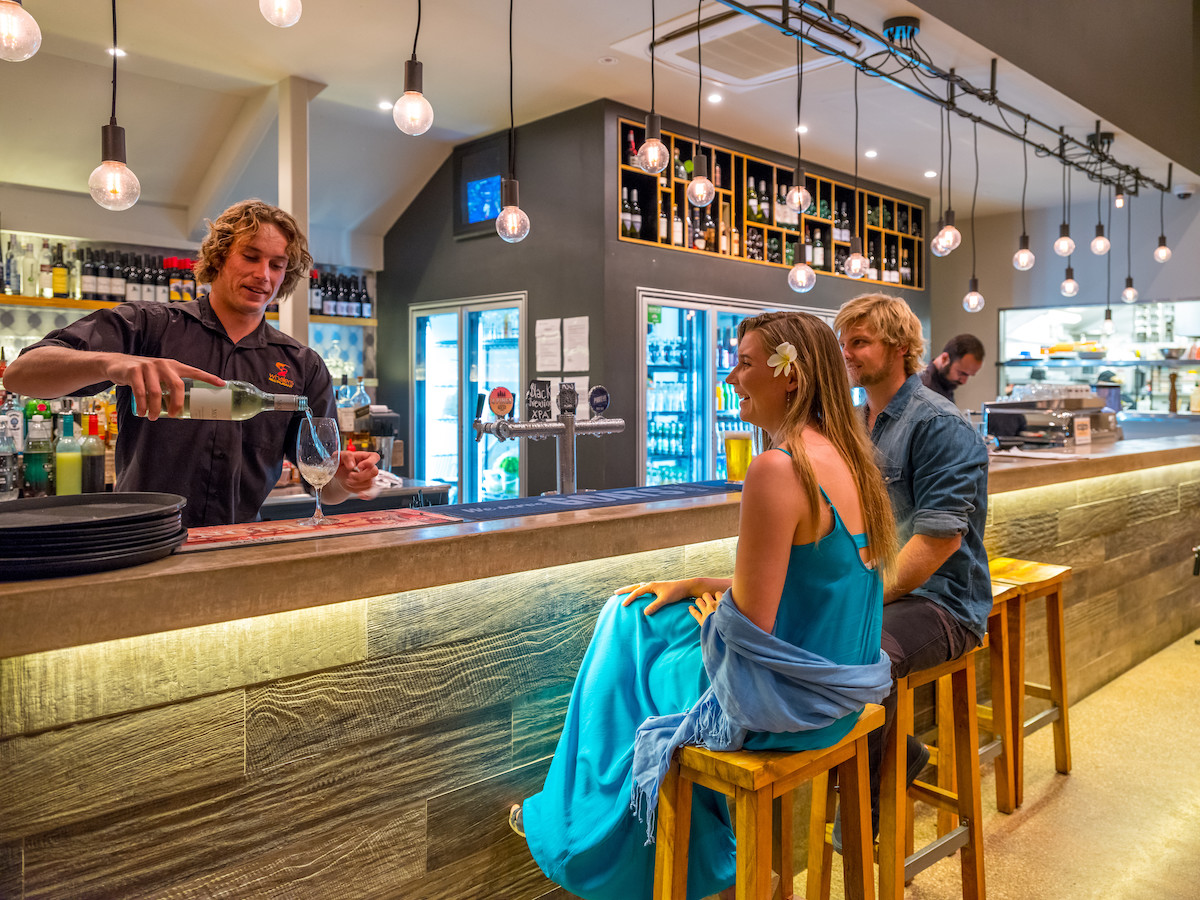 Known as the best seafood restaurant in Exmouth, one cannot miss a trip to Whalers Restaurant. With a massive choice of seafood and options for vegans and vegetarians too, we understand if you're here for both breakfast and dinner. Part of the Exmouth Escape Resort, Whalers Restaurant offers live music and a poolside, garden view eating area. Whalers is here to perform above and beyond the everyday seafood restaurant – it's the perfect place to sink into a seafood feast after a sun-soaked day of adventure.
---
Whalers Restaurant | 2 Murat Rd, Exmouth, WA 6707
---
The Short Order Local
Also located in Exmouth, The Short Order Local is a family owned and operated food truck boasting absolute beachfront cafe options and some fabulous themed dinners. Feeling a burrito bowl or smoking hot curry? Short Order has got you. Feeling a Spanish fiesta? Saturday night at Short Order Local is your new happy place. If the great coffee, muffins, pastries, bacon and egg rolls, burrito bowls, nachos, brownies, gourmet sandwiches, curries and brekky bruschetta somehow doesn't convince you, don't worry the charming van, delightful family and ocean views will.
---
The Short Order Local | Town Beach, Exmouth, WA 6707
---
The Best Places to Drink in Ningaloo Reef, Western Australia:
Froth Craft Brewery
Prepare your taste buds because Froth Craft Brewery is here and ready to wow. Froth Craft is a restaurant, micro-brewery and music venue with a whole lot of heart, amazing dishes and drinks that are worth a try. Having won 2017 Best Start-Up Business at the Western Australian Regional Business awards, Froth Craft Brewery have made a name for themselves that's backed by their local-produce-made-food, artisan craft beer that's brewed on site, awesome service and an overall upbeat atmosphere.
---
Froth Craft Brewery | 5 Kennedy St, Exmouth, WA 6707
---
The Best Things To Do in Ningaloo Reef, Western Australia:
Swim with the Whale Sharks in Ningaloo Reef
Forget looking at whale sharks, try swimming and snorkelling with them. Swimming with whale sharks along the West Australian coast is a growing global attraction and we understand why. These cool, calm and collected majestic creatures are in and around Ningaloo Reef from March to September every year. No visit to Ningaloo Reef is complete without this bucket list experience, so be sure to add this to your travels.
---
Website | Cape National Park, Ningaloo Reef, WA
---
Snorkelling in Turquoise Bay, Ningaloo Reef
Turquoise Bay is an exceptionally beautiful bay in the Cape Range National Park that gets its name from the stunning colour of the water. Known as one of Western Australia's best beaches, Turquoise Bay is home to more than 500 exotic fish species, turtles, squid and, of course, coral. Snorkelling and swimming is encouraged in the bay for inexperienced and experienced snorkellers alike. Take it from us, Turquoise Bay is going to take your breath away, most likely several times.
---
Website | Cape Range National Park WA 6707
---
Scenic Helicopter Flight over Ningaloo Reef
If swimming and water is not your thing, don't worry. You don't have to be a fish in the sea, try being a bird in the sky. Helicopter your way around Ningaloo Reef! It's a magical experience with potentially better views. From above, there's no limit on the marine creatures you might see. With dugongs, dolphins, sharks, manta rays, turtles, coral and so much more; viewing the magical kingdom that lies beneath from the air is breathtaking and a must-do experience. Plus, imagine all those Instagram worthy pictures!
---
Website | Coral Bay Arcade, 8/46 Robinson St, Coral Bay, WA 6701
---
Meet Sal Salis: a luxury campsite located in the dunes of Cape Range National Park. Sal Salis is the ideal place to stay and experience the beauty of the Ningaloo Reef region while soaking up in all things bush and beach. The stay includes walking tours, ocean-kayaking and offers snorkelling and swimming with whale sharks. Here you'll be waking up to the call of native birds and fall asleep to the sound of serenity after a day of exploring. This exclusive eco-luxe campsite also houses a resident chef, providing modern cuisine options using the outstanding local produce and, of course, with supporting West Australian wine, beer and spirits on offer.
---
Sal Salis | Yardie Creek Rd, Cape Range National Park, WA 6707
---
Sail Ningaloo
Surely the best way to experience the reef is to live amongst it for a few days? This is where Sail Ningaloo offers a stay on Shore Thing, a 51 foot purpose-built catamaran. A unique and once-in-a-lifetime accommodation option for when you visit Ningaloo Reef; this luxury catamaran offers a sundeck and trampoline area, accommodation for 10 and an outstanding crew who offer endless snorkelling, outstanding food, whale watching and a world-class front row seat to the reef. Sail Ningaloo is the perfect option for those after an adventure experience while compromising nothing on luxury.
---
Sail Ningaloo | 1 Robinson St, Coral Bay, WA 6701
---
Mantarays Ningaloo Beach Resort
Fancy a dose of relaxation at the only resort on Sunrise Beach on Ningaloo Reef? Mantarays is the beautiful resort that offers all that Ningaloo has to give. Situated in the Cape Range National Park, the resort boasts stunning views and direct, roll out of bed, no-shoes-required, access to the beach. The accommodation speaks for itself with king and superior rooms, self-contained apartments and bungalows with ocean view bathtubs. Apart from each reach having ocean views, the resort offers some amazing facilities including an amazing pool, gym, restaurant and bar, lounge and terrace area and, did we mention, direct access to the beach.
---
Mantarays Ningaloo Beach Resort | Lot 900 Madaffari Dr, Exmouth, WA 6707
---
Still not convinced? Here are 6 reasons why you to visit Ningaloo Reef Western Australia in 2021. Do you love to explore underwater gardens? Here are the 12 Best Snorkelling Spots around Australia.
We acknowledge the traditional owners of the land mentioned in our article, the people of the Thalanyji Nation, and we recognise their continuing connection to land, waters and culture. We pay our respects to their elders past, present and emerging.
Feature image: Photographed by Violeta Brosig. Image via Shutterstock.
This article was first published on April 05 2018. It was updated and edited by Hunter and Bligh on June 29 2021.