The 9 Best Australian Country Pubs To Visit For Lunch
If you're looking for a good country pub lunch or simply just one of the best places to sink a cold one, these nine best country pubs around Australia are a must-visit in 2021.
Nothing says 'Aussie outback' more than a good old country pub. Packed full of character and eccentricity, there's no better way to way explore rural Australia than by mingling with the locals – cold beer in hand. Of course, whilst you're here you better leave room for a pub feed or two – because the beauty of a visit to an Australian country pub is being able to to taste your way through the local produce.
Rough around the edges, these Australian pubs boast some of the realest country charm. A unique experience in its own right, be sure to taste, sip and explore your way through the nine best Australian country pubs you must visit in 2021!
Pub in the Paddock, Tasmania 
This country pub is situated in, you guessed it, a paddock. Surrounded by the beautiful green rolling hills of Tasmania, Pub in the Paddock is one of Australia's oldest pubs and has been serving drinks since 1880. Apart from serving up some of the best ice-cold schooners in town, here, you'll also find a good country pub lunch thanks to their expansive lunch and dinner options available every day of the week. To add to your country pub experience, Pub in the Paddock is also the home to a very unique barnyard friend, Priscilla, 'The Beer Drinking Pig', and visitors are encouraged to purchase and offer Priscilla a watered down beer. If you're keen to stay and explore more of Pyengana, Pub in the Paddock also offers accommodation.
---
Pub in the Paddock | 250 St Columbafalls Road, Pyengana, TAS
---
Royal Oak Hotel Penola, South Australia
Royal Oak Hotel Penola in South Australia is a striking heritage-listed hotel with a pub open to guests, locals and visitors alike. More than just your standard country pub fare, Royal Oak Hotel Penola boasts a warm and cosy environment during the winter, and its lively beer garden is also busy during the warmer months, giving it year-round appeal. Backed by great ambience and a seasonal menu with local produce, make sure you enjoy a pub lunch with a drop from the Coonawarra wine region.
---
---
Silverton Hotel, New South Wales
Silverton Hotel is certainly a pub with a famous history, with movies such as Mad Max and Razorback having shot scenes at this iconic outback pub. Inside, the walls are adorned with a montage of photos as a tribute to all the times Silverton Hotel has been filmed. Offering ice cold beer and their famous hot dogs, along with a medley of other traditional pub feeds, you won't be leaving this pub unsatisfied. With the Mad Max 2 Museum just a short distance away, Silverton Hotel, as the name suggests, also has accommodation options. This is one Australian pub you must visit at least once in your life.
---
Silverton Hotel | 12 Layard St, Silverton, NSW 2880
---
Ulmarra Hotel, New South Wales
Built in 1906, this Federation-style pub is set on the banks of the mighty Clarence River, just 12 kilometres north of Grafton in northern New South Wales. A classic Australian country pub, The Ulmarra Hotel is found in the heart of the charming Ulmarra village, and boasts one of the largest beer gardens in the region. If you feel like staying to explore more of the town and river, book a room at this darling hotel for a true Australian pub experience that lasts more than a few hours.
---
Ulmarra Hotel | 2 Coldstream St, Ulmarra, NSW 2462
---
Birdsville Hotel, Queensland
Titled as one of Australia's most famous pubs, the Birdsville Hotel is as remote as it gets – it is perched on the edge of the Simpson Desert! Over 1500 kilometres west of Brisbane and 720 kilometres south of Mt Isa is the town of Birdsville – population just over 100. The pub opened in 1884 and has since become a gathering place for locals and tourists alike in search of a good country pub lunch. And, if you're looking to stay there, Birdsville Hotel also caters for guests wishing to stay the night in one of their nifty rooms. For your visit, just be sure to pop-in for a traditional roast on a Sunday night – you might even be lucky enough to score views of the airstrip that sits on the back of the establishment.
---
Birdsville Hotel | Adelaide St, Birdsville, QLD 4482
---
Nindigully Pub, Queensland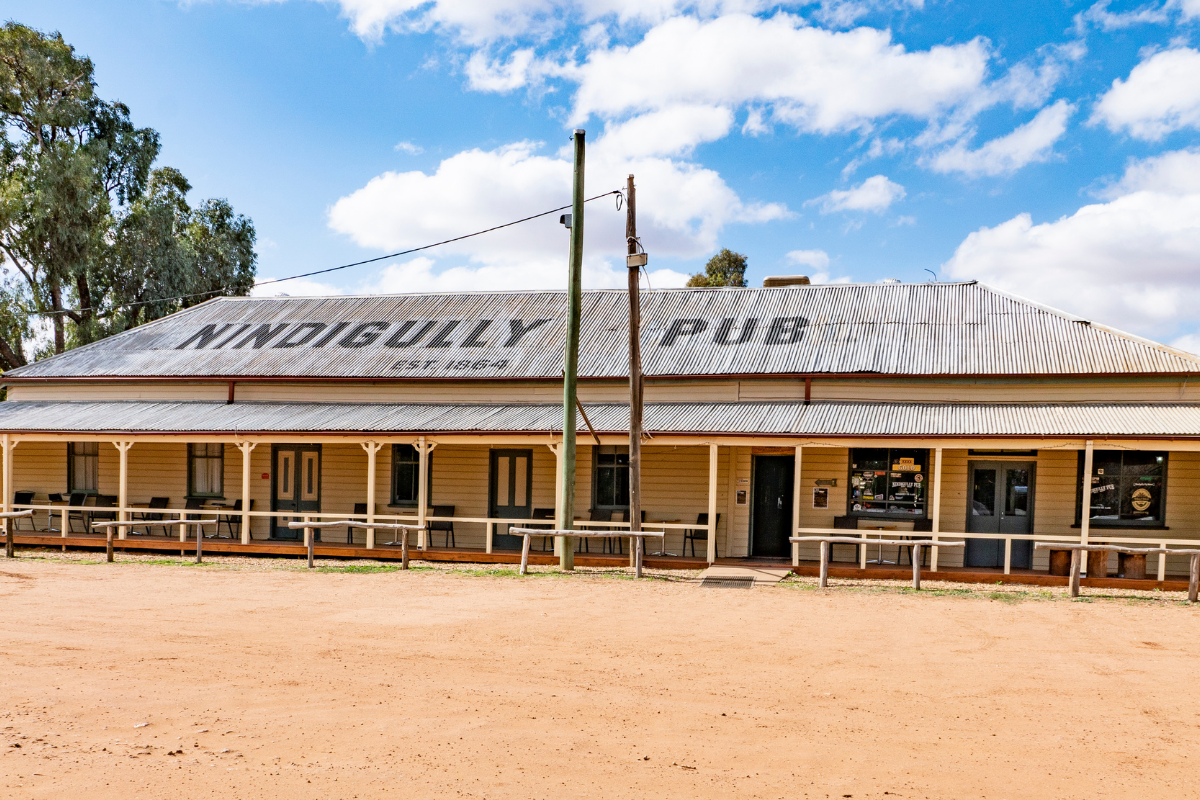 Located on the edge of the outback, the oldest country pub in Queensland offers it all. Beautiful food is available every day of the week, including some of Australia's biggest meals. For those game enough, this Australian pub is home to a jaw dropping 1.2 kilogram Roadtrain Burger and an even bigger one-and-a-half-kilogram Caveman Cutlet. Just outside, the pub is next to the beautiful tree lined Moonie River where you can even go in for a dip on a hot day. Nicknamed 'The Gully', this country pub is certainly a destination for those interested in Australian history.
---
Nindigully Pub | Sternes St, Nindigully (Carnarvon Highway via Thallon), QLD4497
---
The Daly Waters Pub, Northern Territory
The Daly Waters Pub is famous for people leaving behind their mark. The story began in the 1980s when a truck driver made a bet with his female passengers that if they couldn't drink a certain number of beers, they had to leave their bras. And hence the tradition continues with many female visitors leaving their brassiere behind. The Daly Waters serves some amazing pub grub using local produce and includes a mix of surf and turf. For the more adventurous, there is crocodile, kangaroo, buffalo and kangaroo sliders and, of course, a variety of beers and Australian wines to choose from.
---
The Daly Waters | 16 Stuart St, Daly Waters, NT 0852
---
The Pub With No Beer, New South Wales
Don't be put off by the name, this country pub serves up quite a selection of beer to sip into. The Pub With No Beer has been recognised as the inspiration for Slim Dusty's song of the same name, as one time the pub ran out of beer when the supply was cut off by flooding. There is a pizza lounge and restaurant to choose from and of course a selection of local and imported beverages. Outside the views are stunning especially after the sun sets, so be sure to look up at the starry night and enjoy the quiet outdoors.
---
The Pub with No Beer | 4 Taylors Arm Rd, Taylors Arm, NSW 2447
---
Prairie Hotel, South Australia
On the edge of Flinders Ranges, Prairie Hotel is one pub that you don't want to miss. Known for innovative pub food with a unique twist, the pubs Feral Mixed Grill is listed as one of Australia's top 100 gourmet experiences. The menu often changes with the seasons, as the staff create meals that use local produce such as native peaches, saltbush and native pepper leaf.  There is also an intimate front bar where you can grab a cold drink and mingle with the locals and other travellers alike.
---
Prairie Hotel | High St &, West Terrace, Parachilna, SA 5730
---
If you don't want to leave your trusted companion behind, our guide to the Top 21 Dog-Friendly Pubs around Australia will have your canine woofing for a visit. And, if you're already on the road, be sure to add these 10 Must-Visit Australian Towns of 2021 to your list!
Feature image: Silverton Hotel New South Wales. Photographed by Norman Allchin. Image via Shutterstock.
This article was first published on February 17 2017. It was updated and edited by Hunter and Bligh on March 19 2021.