Escape to Adelaide's 5 Best Wine Regions with This Guide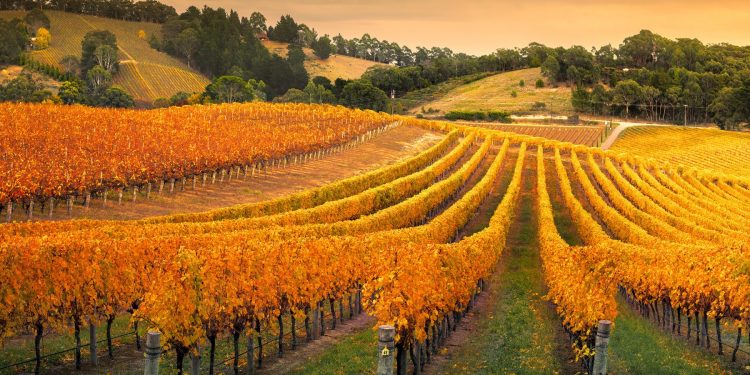 Are you looking for a guide to Adelaide's beautiful wine regions? Then you've come to the right place.
In 2016 Adelaide was named the 10th Great Wine Capital of the World, cementing it as the undisputed heavyweight of Australian wine. Don't believe us? I suppose you'll just have to see for yourself.
South Australia is home to 18 distinct wine regions, each with their own unique history and delicious wineries. Although tasting your way through all of these wonderful wine regions is a tremendous task, instead, we'll help you plan your perfect wine-infused day trip, just a short drive from Adelaide. Or, if you're stuck at home and waiting for restrictions to ease, we'll happily recommend some unmissable wines for you to order.
Clare Valley
Let's begin with the home of Australian riesling, the Clare Valley. This quaint yet vibrant and charming setting hosts gorgeous rustic cellar doors surrounded by endless rolling green hills. Thankfully, just for your enjoyment, one of the highlights of the region is the leisurely 32-kilometre riesling bicycle trail which conveniently bypasses some of the most exquisite wineries.
If you prefer to take your time, stay the night and indulge in one of the delightful bed and breakfasts. For your visit to Clare Valley we'd recommend staying at one of the lavish cottages at Skillogalee which is tucked away neatly amongst the vineyards – perfect for you if you get (understandably) carried away after a wine tasting. Notably, Skillogalee also produces a quintessential riesling that's buzzing with crisp citrus fruits and zest. 
---
Adelaide Hills
Remarkably, Adelaide Hills is the closest wine region to any capital city in the world. The lush and leafy surroundings lend it as the perfect autumn destination, but trust us it's gorgeous all year round. And for your visit, even if it's a short one, there is no excuse to overlook the Mount Lofty Botanic Garden. 
The cooler climate here helps to produce wines that other South Australian regions only dream of emulating. One of the most picturesque wineries to visit is Shaw + Smith, that also produces a consistently immaculate pinot noir. Here, wine lovers will be able to sip on a light bodied beauty with well balanced acidity that's both juicy and fruit forward – the ideal choice this season.
---
McLaren Vale
Undeniably trendy but always retaining an unparalleled level of quality, McLaren Vale is a wealth of pleasure for you to visit. Like many Adelaide wine regions, there is a brilliant blend of stalwart classics and funky new innovators. Encapsulating this sentiment perfectly is chief winemaker Chester Osborn of d'Arenberg. The iconic d'Arenberg Cube that Osborn built is certainly not a gimmick nor a stroke of luck, from the quirky art installments to the gratifying wine blending classes, there's so much to see and do here. 
Although well known for their shiraz, in our opinion, where McLaren Vale really shines their ingenuity and skill with lesser known grape varietals. S.C. Pannell is a maker that stands out with their tempranillo, grenache, montepulciano and nero d'avola, all of which are lovely drops to add to the collection. However, if you're going to make room for just one, we recommend their nebbiolo which is regarded as one of the best available outside of Italy. 
---
Barossa Valley
Chances are wherever you hail from in Australia, you've heard of the Barossa Valley. It's even more likely if you are partial to a big, earthy shiraz wine. Home to the renowned Penfolds Cellar Door that produces some of the best representations of Australian shiraz that money can buy. Don't let anyone tell you that Grange is overrated either, it never disappoints when it's popped open on a special occasion.
When you're not getting lost at the bottom of a wine glass, the Barossa Farmers Market in Angaston is also well worth attending. It's a perfect stop to rustle together a few treats for a picnic and a chance to mingle with some of the Barossa locals.
---
Langhorne Creek
Sometimes unfairly overlooked is Langhorne Creek that's found just 70 kilometres from Adelaide and located in the Fleurieu Peninsula. Multiple farming families are in their sixth generation at Langhorne Creek and none more significant perhaps than the Potts family who established the region's first winery, Bleasdale. 
Cabernet sauvignon is the flagship varietal here, but sweet tooths needn't worry as the Bleasdale Sparkling Shiraz is impeccable and can serve as a comforting dessert wine on the cool nights here. The Handpicked Festival of music and wine hosted by Lake Breeze attracts international acts and is one of many great excuses to make a trip to Langhorne Creek.
---