Game of Thrones Recap: Season 8, Episode 5
Honestly, we're unsure on whether to celebrate the epic moments that were or fear what is coming next.
**SPOILERS AHEAD**
The penultimate episode of Season 8 of Game of Thrones was intense, unexpected and vision-fulfilling. The episode opened with Lord Varys, treacherously sending messages, to whom we do not know, about Jon Snow being the rightful heir to the Iron Throne. The beginning of the episode had to move quickly, as there was a battle looming, however, Daenerys had some unfinished business. After Jon arrived at Dragonstone and discovered Daenerys hadn't been eating or sleeping, Tyrion has an audience with her, and the viewers got a glimpse of how Daenerys had morphed into the physical depiction of the Mad Queen. Delirious with anger and grief from both Rhagaels and Missandei's deaths, Jon Snow's betrayal and the subsequent questioning of her ability and right to rule, this episode expertly showed the pressure mounting within and around Daenerys.
After learning of Varys' treason from Tyrion, which he later admitted to Varys before his death, we saw Daenerys have Varys march in cuffs to his death by dragon fire. A majorly unexpected, but logically deserved death, Varys has been with us from the beginning, and his witty quips will be sorely missed. However it was refreshing that after committing treason, he paid the price. In what was a touching goodbye scene, it quickly morphed into a fearful and emotionless death command in which we felt that Daenerys' tone was important in commanding Varys' death. Gone is her passionate anger-filled voice, replaced with a quiet, cold and calculating "Dracarys." The episode followed this pattern throughout multiple points. In the immediate next scene we have Jon and Daenerys together, in which she once again is looking for comfort and intimacy, but once again is not something Jon can give her. We think this is partly to do with the fact that she is turning into something other than the Daenerys he fell in love with. On top of that, she believes that Jon has betrayed her. So, after yet another rejection, her face turns hard and she comes to a decision within a blink of an eye, "Let it be fear."
From here, we have a clear view of what Daenerys wants to do to King's Landing, which is confirmed in the next scene, where she sits above Greyworm and Tyrion, and after Tyrion tries to talk 'mercy' to her, she dismisses them. She has isolated herself, which is mirrored in her physical positioning for the rest of the episode. Tyrion does, however, have hope that if the bells ring (which signals the cities surrender) Dany will have mercy, and here we were believing she would, too, but this is Game of Thrones. Tyrion's true nature has been revealed wholeheartedly throughout this season, and epitomised when he let his brother free, and thanked him for keeping him alive throughout their childhood. The brotherly affection and care was deeply moving, as both brothers know they will never see the other again.
Day breaks in King's Landing, and the forces are gathering. The Golden Company looks fierce, the Northerners and Unsullied look tired. Euron Greyjoy and Cersei look on cockily, while the Scorpions are loaded menacingly. Everything is quiet, and still, until Euron sees something in the sky. That something did what we could have only hoped. Drogon and Daenerys rained down on the enemy forces, this time ready for the Scorpions, which in reality would have been too slow for her biggest and most powerful dragon going full pelt. With Daenerys piloting, Drogon took out the ships,the walls surrounding King's Landing and majority of the Golden Company – who it turns out were useless. It was beautiful chaos, and we will admit, we were tentatively cheering, hoping that she would prevail, and all would be well. Mad Queen? Please!
Well, that was, until. Until perhaps the best moment of the entire episode, where the Lannister army, after Cersei foolhardily spat at Qyburn that they would be loyal to their Queen, dropped their weapons. The city was deathly quiet, people were yelling out to ring the bells, and the impossible happened. The bell rang, Daenerys and Jon had won. The camera centred on Daenerys face, and we could feel, hear, see and almost taste her struggle with her next move. Her anger for what the Lannisters had caused her, her feelings of insecurity that she had no love in Westeros, her resignation to the fact that it had to be fear. And so fear is what she chose.
The episode descended into chaos after Daenerys started doing the thing we hoped and thought she wouldn't do, the thing that Tyrion and Jon watched with horror. As she lit up King's Landing, so did Greyworm, overcome with anger, continue the attack on the Lannister army, and hence every person who got in the Northerners and Unsullied's way. The scenes that were set in the streets of King's Landing were depicted as pandemonium, unprecedented and true to Daenerys' wish to rip out Cersei, and apparently the rest of King's Landing "root and stem." Interestingly, after her decision to destroy the capital, she was not seen for the rest of the episode, apart from the occasional glimpse of Drogon and his shadow. This put the audience firmly into the people in perils shoes, and inspired a sense of otherworldliness that was attributed to Daenerys.
While Daenerys wrecked havoc outside, a lot was happening inside the castle walls. First of all, Euron survived the attack on the Iron Fleet, and just happened to find Jaime who was heading into the castle to reach Cersei. A fight to the death breaks out, and Euron manages to stab Jaime twice before Jaime puts his long sword through Euron (63% of people who took the poll last week thought Jaime would kill Euron, and they were right). Apparently, what is dead can die.
Up in the castle, Arya and the Hound have made their way almost to Cersei and the Mountain, when he turns to Arya, and sets her free. This is the end of a long road for Arya and Sandor, and she thanked him before running out of the castle. This left the Hound to finally, after a lifetime's wait, meet with his brother who burned his face so many years ago. After the Hound remembers his manners and addresses the Queen as "Your Grace," kills a number of soldiers, watches his brother absolutely wreck his maker (Bye Qyburn, you won't be missed) and lets Cersei slink past after realising she wouldn't be commanding anyone anymore, the Cleganebowl was realised. It was an epic battle, in which The Mountains ugly face and body was finally revealed, and the Hound finally had his revenge. We said goodbye to a truly heroic and monumental character in the Hound, although it was a fitting end, being thrown into flames, as the Hounds only fear throughout the entire series has been fire, and yet he braved it (and falling off a cliff) just to put an end to his brother. When we asked what confrontational reunion you were looking forward to in the poll, 41% said Arya and Cersei, while 31% said the Mountain and The Hound, and 25% said Cersei and Jaime. The most highly anticipated didn't come to fruition, the second lived up to its expectations and Jaime and Cersei… well.
Jaime and Cersei were reunited, after all seemed lost. One injured, most likely mortally, and the other fairly useless in their situation, but evil. After everything she has done, every person she has betrayed, every person she's sentenced to death and plotted against, her undoing took place underneath the Red Keep with the only person, apart from her children, that she truly loved. In a way, the Red Keeps demise was essential and mirrored the demise of Cersei. As it fell apart around her, so did her hope. After she reunited with Jaime, the stones were just keeping themselves upright, as was she. Until the very last moment, when the exit was completely blocked, and she gave up, pleading to the air around her and to Jaime that she wanted to live, did the ceiling collapse, and Jaime's last words rang true of the whole series, epitomising their relationship and the view they both took om the world, "Nothing else matters. Only us." Daenerys, the most powerful woman in competition to Cersei, was her undoing, and her brother with whom she entered the world was the only person she left it with, he who sought her out to die with her. The things we do for love.
The episode finished on Arya, awakening to the ashes left by Daenerys and Drogon. Arya has witnessed Daenerys' destruction firsthand, and the look on her face at the end of the episode leads us to believe she may have added another person to her list. Her happening across the white horse, and riding it into the distance of King's Landing has significance, as the white horse has special symbolism in mythology, and is often associated with an end-of-time saviour. Arya has already played this role with the Night King, and she plans to play it again, for the newly entitled 'Queen of the Ashes.' This title is a throwback to Season 7, Episode 2, when Olenna Tyrell advises Daenerys to "be a dragon," and Daenerys says with the utmost confidence, "I did not come here to be Queen of the Ashes."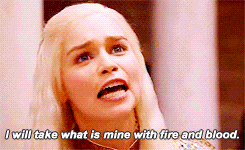 Best Line:
Jaime Lannister: "Nothing else matters. Only us."
Significant Deaths:
Varys, Euron Greyjoy, Qyburn, The Hound (Sandor Clegane), The Mountain (Gregor Clegane), Jaime and Cersei Lannister, lots of Innocent people, the Lannister army, the Golden Company, the Allies
Biggest Jaw-Drop Moment:
Deanerys deciding to rain down dragon fire on Kings Landing, innocent or otherwise